Fellows are elected to the RSL.
To be nominated for Fellowship, writers must have had published or produced at least two substantial works, whether in book form, as theatre productions, works for the big or small screen, or in any other form through which great writing can be shared.
The involvement of Fellows with all the RSL does makes our engagement work, events and projects possible. We believe that literature matters and is for everyone. Our Fellows' commitment to and investment in our community and the work we do is invaluable to our mission.
The RSL's Constitution requires that these works are of 'outstanding literary merit' – which means excellence in all the great variety of ways possible – and those writers nominated must be resident in or citizens of the UK. Writers need to be nominated for Fellowship by an existing Fellow or Honorary Fellow, and then seconded by another Fellow or Honorary Fellow. Nominations are taken to our Council – our governing Board of writers – and our Vice-Presidents, President and Presidents Emeriti for review. Each year, 30 Fellows are elected. Nominated writers who aren't elected are reconsidered every year for three years from the year they were proposed.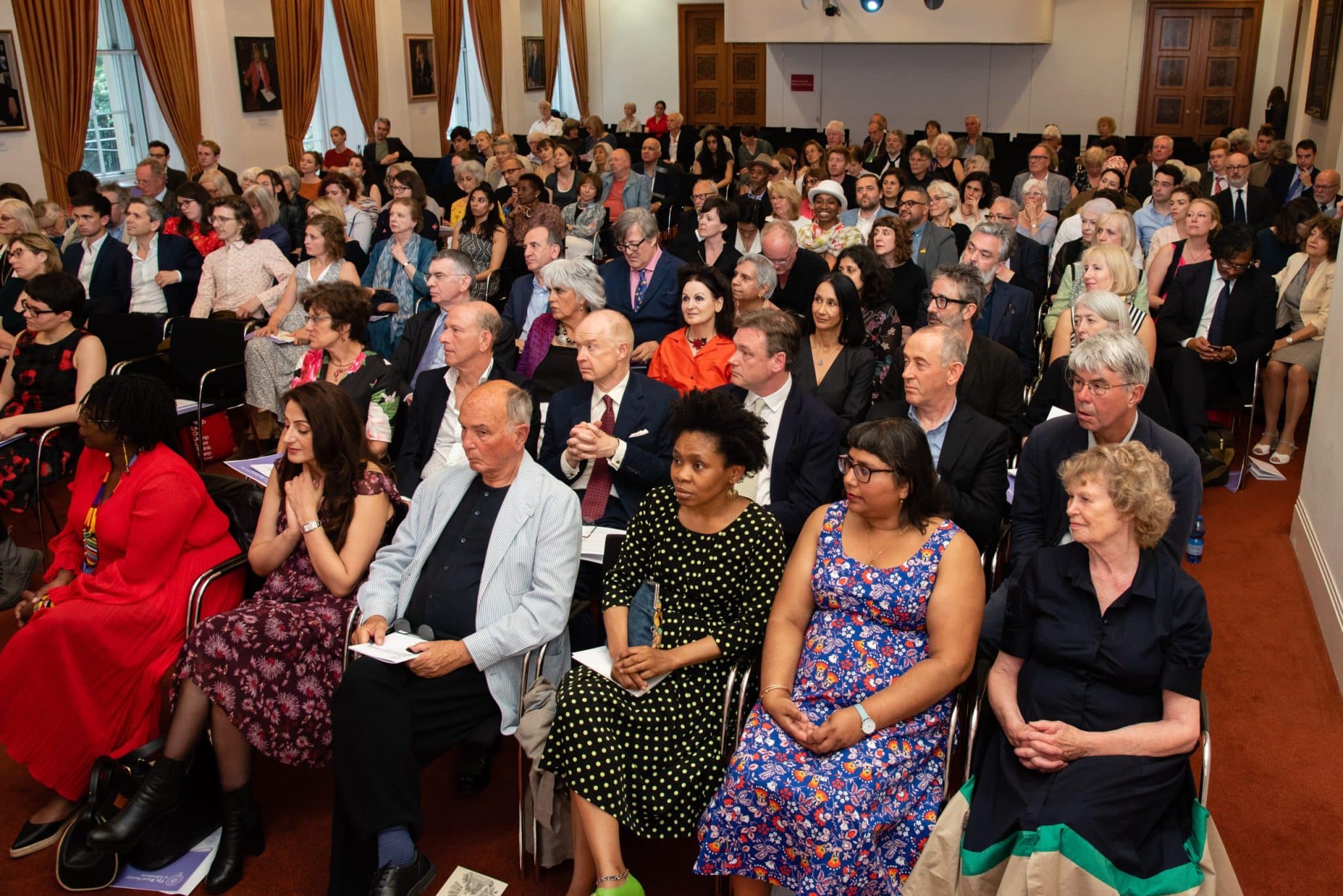 Newly elected Fellows are formally inducted at the RSL's annual summer party, when their Fellowship is announced publicly. While the President introduces them, they are invited to sign their names in the Roll Book. Received in 1825 when the RSL received its Royal Charter, the Roll Book is a unique literary document, including the signatures of Fellows over two centuries. New Fellows sign the book using a famous writer's pen. They can choose from George Eliot's, Lord Byron's or Jean Rhys' pens; Andrea Levy's, Arnold Wesker's or T.S. Eliot's fountain pens; or Charles Dickens' quill.
Diversity and Inclusion in our Fellowship
Self-selecting groups can present a challenge to diversity. We are working to tackle historic underrepresentation in literature and at the RSL. Our 40 Under 40 initiative celebrated the talent of younger writers in the UK. We elected 40 writers Under the age of 40, working across literary forms, to the Fellowship through this programme in 2018. In 2020, RSL Open was launched to welcome 60 excellent writers from backgrounds and experiences underrepresented in literary publishing to join the Fellowship. This included writers who are working class, LGBTQI+, people of colour, and who have a disability. We continue to work to celebrate the true breadth of literary excellence through our Fellowship.
In 2023, we'll be launching a new Fellowship election process. Drawing on the success and learnings of Fellowship initiatives 40 Under 40 and RSL Open, we're opening up our Fellowship long-term by inviting readers and writers throughout the UK to recommend potential new Fellows for consideration by a specially selected panel that will change year-on-year. These changes will help to ensure the diversity of excellent writers in the UK continues to be celebrated within the RSL Fellowship, and help form greater connections between writers and their readers.
You may also be interested in